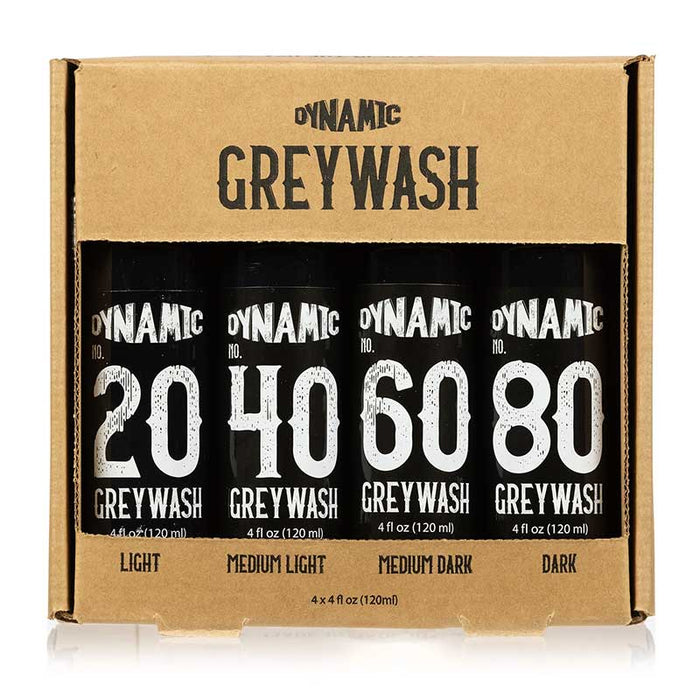 Dynamic Grey Wash 4oz 4ct Set
Dynamic's new Grey Wash Set is blended from their tried and true original black formula. The specific formulas come from countless tests and years of polling black and grey-specific artists to gather a commonality in ratios for the perfect 4-bottle set.
Dynamic uses the purest hospital-grade water, which is filtered, distilled, and UV sterilized in their facility, to ensure the #00 Mixing Solution in their washes is of the utmost purity and held to the highest standards.
The addition of witch hazel to this solution not only adds a visible smoothness to your work and leaves your clients with a soothing quality.
#20 - a

 thin wash

 

and lightest of the set
$40 - a 

smooth 

light-mid 

tone wash
#60 - a deep and silky true medium toned wash
#80 - the darkest of the set, a deep and full-bodied wash
Made in the USA.
WARNING: We will not be responsible for FROZEN liquids. If you are ordering liquids such as inks, make sure to be at your address when the delivery driver arrives. You can do this by keeping close track of tracking numbers. Prolonged storage of liquids in cold (below freezing) areas will result in damaged product.